Skylar-Bug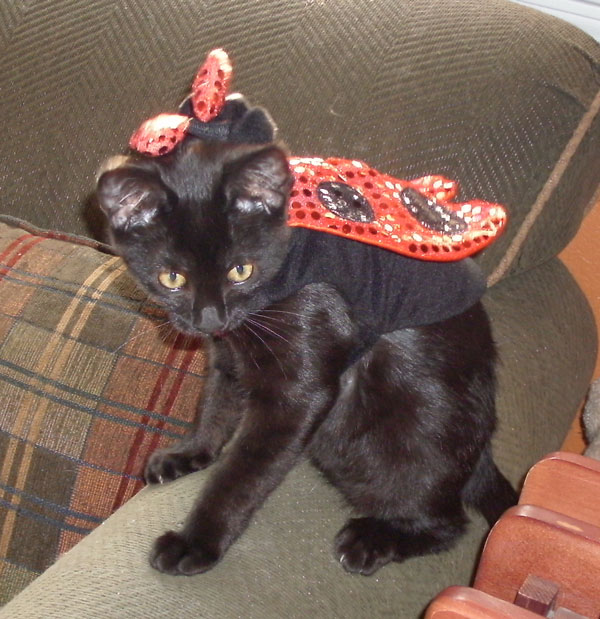 Posted: October 19, 2013
I know, I know. But he's a kitten and the costumes were 75% off...I think he's cute as a bug.
A turkey can run 20 M.P.H.
Rantin' and Ravin'
How To Drive Near a Bicycle

As part of my getting back into good health and routines, I have dusted off the bike (the kind I have to pedal) and have taken to the streets on minor trips around town - riding to Curves to work out, riding to my Weight Watchers Meetings, and Karate class. But the way some of these drivers behave around me as a cyclist is unreal...
more...
Random Funny
Random Facts
The Whole Nine Yards
During WWII , U.S. airplanes were armed with belts of bullets which they would shoot during dogfights and on strafing runs. These belts were folded into the wing compartments that fed their machine guns. These belts measure 27 feet and contained hundreds of rounds of bullets. Often times, the pilots would return from their missions having expended all of their bullets on various targets. They would say, "I gave them the whole nine yards," meaning they used up all of their ammunition.

Featured Links
Cat-Share
This is a facebook like page for cat lovers.
This site is HILARIOUS! Do you text and have your phone autocorrect where it just makes no sense whatsoever? This does have strong language and suggestive 'autocorrects' so it's rated R.
Just what the name implies; cutest cat pics.
This website is a large collection of stories and anecdotes about clueless computer users. It's a baffling phenomenon that in today's society an individual, who might in other circumstances be considered smart and wise, can sit down in front of a computer screen and instantly lose every last shred of common sense he ever possessed. Complicate this phenomenon with a case of "computerphobia," and you end up with tech support personnel having phone conversations that are funny in retrospect but seem like perfectly valid motives for wild machine gun shooting sprees at the time. And yet, amidst the vast, surging quantities of stupidity are perfectly excusable technological mishaps -- but that are amusing nonetheless. After all, even the best of us engages in a little brainless folly every once in a while.
The Oatmeal.com
This site is hilarious - cat humor, high tech humor, etc. It's got it all!